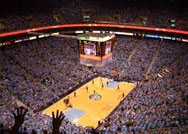 EnergySolutions Arena – is an indoor arena located in Salt Lake City, Utah. The building is owned by Jazz Basketball Investors, Inc., the estate of Larry H. Miller. The arena is the home of the Utah Jazz of the National Basketball Association (NBA) and has been the home venue for other professional athletic teams such as the Utah Blaze of the Arena Football League and the Utah Starzz of the Women's National Basketball Association (WNBA). It seats 19,911 for basketball, has 56 luxury suites, and 668 club seats.
Opened in 1991, the arena was known as the Delta Center, under a naming rights deal with Delta Air Lines. Salt Lake City-based EnergySolutions purchased the naming rights in November 2006, after Delta decided not to renew their 15-year contract due to filing for Chapter 11 bankruptcy the year prior. From 2006–2015 it was known as EnergySolutions Arena. On October 26, 2015, the arena was renamed as part of a 10-year naming rights contract with the Provo, Utah-based home security system provider Vivint.
The arena was also home to the figure skating and short track speed skating competitions of the 2002 Winter Olympics, where it was referred to as the Salt Lake Ice Center.