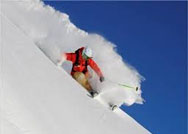 Deer Valley Skiing – Deer Valley is an alpine ski resort in the Wasatch Range, located 36 miles (58 km) east of Salt Lake City, in Park City, Utah, United States. The resort, known for its upscale amenities, is consistently ranked among the top ski resorts in North America.
Deer Valley was a venue site during 2002 Winter Olympics, hosting the freestyle moguls, aerial, and alpine slalom events. It also regularly hosts competitions for the International Ski Federation.
Skiing began at Deer Valley with the Park City Winter Carnivals of the 1930's. The first ski lifts appeared in 1946, when local residents Robert Emmett Burns, Sr. and Otto Carpenter constructed them, largely from nearby lodgepole pines. The ski area was called the Snow Park Ski Area, a name which endured from 1946 to 1969. In 1981 Edgar Stern founded Deer Valley Resort in the same area and above. It has grown to include six mountains with six bowls, 930 acres of glade skiing and 670 acres of snow-making. The resort totals 2,026 acres in size.