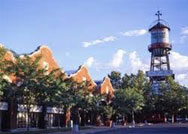 Trolley Square – is a partially enclosed shopping center located in Salt Lake City, Utah. It is considered to be a trendy high-end center. The center lies within close proximity to downtown Salt Lake City and the UTA TRAX light-rail system.
Trolley Square is composed of barns that were built in 1908 to house Salt Lake City's streetcars. The streetcar system was dismantled in 1945, and the barns were converted into a two-story shopping center in 1972. The center is noted for its unusual architecture consisting of winding hallways, brick and wooden floors, fountains, old-trees, and wrought-iron balconies. Prominent tenants include Weller Book Works, Pottery Barn, Cabin Fever (a popular card store), Williams-Sonoma, Old Spaghetti Factory, The Spectacle, and local boutiques.
The Trolley Square water tower is covered in red and blue neon lights, and it is a prominent feature of the Salt Lake City skyline, able to be spotted from miles away at night. For many years, the tower would give the local weather forecast based on the colors of lights, with solid blue being fair weather, flashing blue being cloudy weather, solid red being rain, and flashing red being snow. The Trolley Square water tower was renovated in fall 2014.
Another prominent feature of Trolley Square is the sky bridge that connects the main building to a small parking lot located across the street. The bridge goes over 600 South, and it features neon lights shaped in the form of a trolley.